Don't just monitor medical practice online reviews. Improve them.
It's estimated that over 85% of consumers read online reviews for local businesses – including their neighborhood doctors – making online reputation management essential to securing new patients in an age where two or three negative reviews can sully the star-rating of a medical practice.
Doctors and medical practices face unique challenges managing patient reviews and reputations online. They often face highly polarized doctor reviews that contain either glowing praise or objectionable accusations of inefficiency (or dare we say, gross negligence). As a provider, you must find a delicate balance between defending yourself and responding in a cool HIPAA compliant manner.
Protect your medical practice from doctor rating disease
It's understandable that a doctor may feel under fire after a brief glance at her or his online reputation sites like Yelp, Google, Healthgrades or RateMDs. But the solution is not so-called reputation management services that many firms are selling.
Forget the complicated software that merely monitors doctor rating websites. Ignore those fancy website dashboards that come with a fat monthly fee – and leave the hard work up to you.
We don't just monitor your reviews, our team reads every review to provide personalized insights, responses and business recommendations because we know you don't want to simply see patient reviews online. You want to improve them.
Vanguard Communications team members are recognized experts in practice & physician reputation management. Check out our reputation & marketing research or contact us for more information.
Online doctor reviews matter to patients and search engines!
Consumers trust online reviews – nearly 84% of people trust online reviews as much as a personal recommendation. Why are online reviews particularly important to a doctor's offices' search engine rankings in recent years? Search engines now pay closer attention to online doctor reviews and medical practice reviews because people pay more attention to them.
As an example, see what happens when you Google the phrase ob-gyn near me. Notice the Google Maps pull out. Keep scrolling. Notice all the star ratings in the page 1 search engine results? Those are from patient reviews. Similar search results render when you search for other specialties, specific doctors and even treatment for conditions.
From online review feeding frenzy to valuable patient feedback
Reviews speak to potential patients long before your scheduling staff ever will, so what are they saying? In our 2016 original survey, Vanguard set out to answer that very question. An analysis of 34,748 online healthcare reviews found that about 66% of American reviewers (presumably patients) give their doctors either four or five stars on review sites. Patients tend to be overwhelmingly happy with their care.
Our online review surveys say …
66% of patients like their doctors.
84% of top hospital complaints were nonclinical.
Doctors fare as well as restaurants & hotels.
In fact, a 2017 study of Yelp reviews conducted by Vanguard observed that of the 2,679 reviews received by the top 20 U.S. hospitals, nearly 9 in 10, or about 84%, of complaints cited nonclinical, service issues as the main source of dissatisfaction. This includes billing problems, poor phone and follow-up practices, and long wait times to see a doctor.
Our own recent analysis of approximately 1.5 million online reviews for hotels, restaurants and doctors found that overall star rankings were fairly similar across the three business categories. Doctors, however, received a smaller quantity of reviews that were more polarized. Doctors often receive either one- or five-star ratings. Hospitality businesses receive considerably more two-, three- and four-star ratings. Reviewers quickly turn into sharks in the water when reviews appear to be largely negative, creating that negative feeding frenzy.
Unlike other online reputation management service providers, Vanguard Communications strives to turn that feeding frenzy into feedback and actionable goals for doctors and their teams. We don't just offer review monitoring, we draft HIPAA compliant responses, search engine optimization of reputation profiles, ethical methods for improving ratings, and personalized reporting of review themes.
Does your practice suffer from long wait times, erroneous billing, constant no-shows, or inefficient scheduling? We can help your team work together to diagnose and resolve efficiency issues.
Earning good doctor reviews ethically
Virtually every business has dissatisfied customers, and you surely know that your medical practice is no different. How you manage those complaints is important, and this is where Vanguard's three-pronged management strategy can make all the difference.
We help each client practice deal privately with unhappy patients. Our special-technology surveys screen for complainers first, before they go online to post public criticisms. Secondly, we work with practice management to resolve the complaints constructively.
We respond quickly and politely to online complaints when they do occur. Every doctor expects to see one or two complaints about any practice. What's more important than the complaint is how your practice responds – which should be promptly, respectfully and constructively. Depending on several circumstances, some responses on behalf of the practice are public, while others are private. And we've had pretty good success having patients remove negative reviews from doctor-rating sites.
We encourage and grow online praise. Happy patients are less likely to comment publicly than unhappy ones. We can fix that. Through our own specialized technology – along with a tried-and-true methodology for improved patient service and communications – we can increase the ratio of good to bad reviews dramatically.
Eight steps to improving doctor ratings
As part of Vanguard's online reputation management program, we optimize, monitor and manage the most popular rate-your-doctor websites for client practices, including Yelp, Google, HealthGrades and RateMDs. Here's how.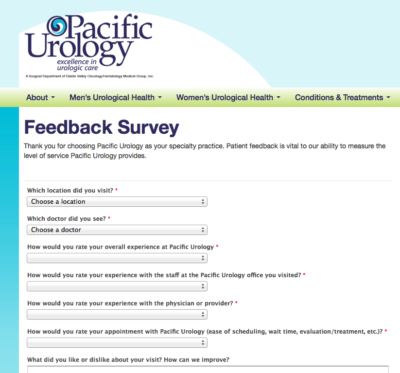 We claim and consolidate accounts on third-party websites (Yelp, Google, etc.) for each medical practice, allowing us to manage the practice's identity and respond to public postings.
We monitor patient reviews daily on these and other sites.
We immediately alert a client of any critical review when it is posted.
We draft an immediate response for the practice's review before posting on the website where the criticism appeared.
We deploy a highly advanced online patient satisfaction survey that uses proprietary computer coding to screen for the happiest and unhappiest patients. Each group is then managed differently.
We help the practice promote the post-appointment survey in its offices, garnering more responses from more patients. This identifies the complainers in order to address their concerns privately before they go online to vent. The survey also identifies the happy patients and encourages them to post a review online.
We provide additional feedback mechanisms on each client's website to encourage private complaints and public praise.
We provide each practice with reputation-management training and support designed to boost overall patient satisfaction.