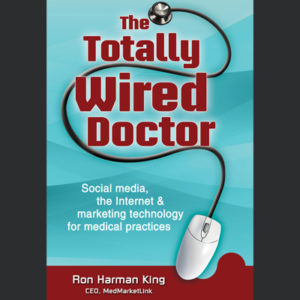 Print edition of medical marketing book now on Amazon.com
Denver, CO (October 26, 2012) — The print edition of The Totally Wired Doctor: Social media, the Internet & marketing technology for medical practices, by Ron Harman King, is now available for purchase on Amazon.com.
In The Totally Wired Doctor, King makes Internet technology easy to understand for medical professionals, examining key elements of medical marketing, patient education and building a successful practice through the online and offline processes patients use to select healthcare providers.
What does a physician do about negative patient reviews on rate-your-doctor websites? Should doctors advertise on Google? How much should a medical practice's website cost? Are Facebook and blogging just passing fads?
Through plain-talk answers and common-sense guidance, King guides physicians and practice managers in navigating the formidable assortment of technology and market forces reshaping modern healthcare.
About Vanguard Communications
Since 1994, Vanguard Communications has provided specialty healthcare marketing with a strategy focused on patient education guaranteed to bring new patients to specialist physicians, physician assistants, nurses and therapists in private, university and hospital practices. Through its MedMarketLink program, Vanguard combines the disciplines of online and offline PR, strategic marketing and information technology for healthcare providers coast to coast.
Media Contact: Jessica McLaughlin | 303-382-2999 | [email protected]