About Neil H. Baum, MD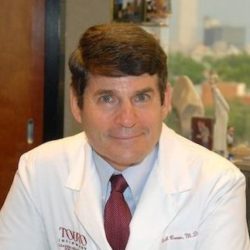 Neil H. Baum, MD, is medical adviser to Vanguard Communications and is the author of Marketing Your Clinical Practice-Ethically, Effectively, and Economically, which is in its 4th edition, and The Complete Business Guide to a Successful Medical Practice, which was published in 2015.
Dr. Baum was the columnist for American Medical News for more than 25 years and wrote the popular column, The Bottom Line, for Urology Times for more than 20 years.
He is a requested speaker each year to the Practice Management seminar for the AUA where he discusses techniques to make a urology practice more efficient and more productive. He has written 16 books on practice management and over 250 peer-reviewed articles on various urologic topics, including BPH, ED and incontinence. Those practices who have consulted with Dr. Baum have reported that he delivers on his commitment to enhancing medical practices using ethical and effective techniques that have been tested in numerous practice locations across the country.
Dr. Baum has consulted with physicians, medical practices, pharmaceutical companies and medical manufacturing companies throughout the nation. His focus is on improving efficiency and productivity and using social media to attract patients to a medical practice. During his time as a clinician, Dr. Baum conducted numerous clinical trials on BPH and ED, including drug studies.
After retiring from clinical practice in January 2018, Dr. Baum joined Vanguard Communications in their efforts to grown the patient bases of medical and academic practices and help them to be more efficient and ultimately, more profitable.
Thought leadership by Neil H. Baum, MD
In addition to authoring 16 books on the subjects of healthcare marketing and practice management, Dr. Baum is a highly requested speaker at medical conferences nationwide and a regular video blogger for Vanguard Communications. He also has a bi-weekly column, Words from the Wiz, sent to thousands of email subscribers each month.
Read all past Words from the Wiz columns here
---
Blogs, articles & videos by Neil H. Baum, MD
---
Speaking engagements
Interested in booking Dr. Neil Baum to speak at your next event? Fill out the form below and let us know the details.
Past speaking topics
Patient Satisfaction-New Metric for Every Medical Practice
This program reviews the importance of patient satisfaction and focuses on online reputation management.
American Urologic Association
San Diego, CA
May 2018
Moving from Volume to Value
There is a trend today to provide value for our patients and not dwell on the number of patients we provide care for. This program discusses how to measure value and share our findings with our patients and the payers.
American Urologic Association Practice Enhancement Seminar
San Francisco, CA
May 2018
Branding Your Practice
This program discusses the role of branding in medicine and how any medical practice can incorporate branding techniques to attract new patients.
University of Texas Southwestern Medical School
Dallas, TX
April 2018
Gyn-O-Topia: The Perfect Gynecologic Practice
This program reviews ideas to enhance the efficiency and productivity of the gynecologic practice.
Loma Linda Grand Rounds
San Bernardino, CA
March 2018
Practice Management Seminar
The presentation is focused on marketing and internet communication with patients.
University of Southern California
Los Angeles, CA
February 2018
Developing the "Almost" Perfect Gynecology Practice
This is another title for the Gyn-O-Topia program, which reviews ideas to enhance the efficiency and productivity of the gynecologic practice.
Pelvic Anatomy and Gynecology Society
Las Vegas, NV
December 2017
Current Controversies in the Management of BPH
This presentation discusses the new concept of minimally invasive treatments of the enlarged prostate gland.
Point Counterpoint
Phoenix, AZ
November 2017
Controversies in Testosterone Replacement Therapy
This presentation discusses the benefits and risks of hormone replacement therapy in men.
Grand Rounds, Touro Infirmary
New Orleans, LA
August 2017
How to Create The "Almost Perfect" Medical Practice
This program discusses the four pillars of a medical practice: maintaining the loyalty of existing patients, attracting new patients, enhancing referrals from colleagues and other professionals, and enhancing staff morale.
American Urologic Association
New Orleans, LA
May 2017
No-scalpel, No-needle Vasectomy from a Gynecologist's Perspective
Grand Rounds LSU department of gynecology
New Orleans, LA
April 2017