About Amy Lueb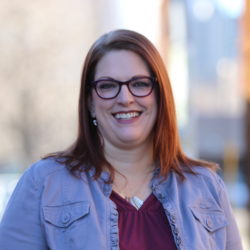 Amy Lueb is a principal consultant for the Vanguard MedAmorphosis program. She has a BS in Mechanical Engineering and an MBA from the University of Colorado. She gathers her 10+ years of continuous improvement knowledge and methodologies from the worlds of both manufacturing and healthcare, giving her a unique perspective and approach to the continuous improvement process.
Prior to being apart of MedAmorphosis, Amy work for Denver Health, specifically with the Behavioral Health and Women's Care departments, helping them to cut waste, improve their processes & increase employee & patient satisfaction. Prior to entering the healthcare world Amy was a Quality and Manufacturing Engineer for several commercial & industrial manufactures in the Denver Metro area.
In her free time Amy loves hanging out with her rescue dog Annie, reading and doing yoga. Also in the fall months you will find her judging competitive high school marching band around the country. Amy was a member of the Blue Knight Drum and Bugle corps in her youth and keeps that passion burning by engaging in the activity through consulting & judging.