Medical SEO (search engine optimization), quality health information and patient-centric messaging empower doctors to stand out online
Video transcript
In this 8-minute video, I'm going to talk about how to harness online activity through medical SEO (search engine optimization) to attract new patients to your medical practice, and how to stand out among all the other healthcare providers and organizations online that are vying for their attention.
Namely, that means emphasizing the patient's needs over highlighting your skills. In order to do that, it's critical to understand what patients are looking for online. And that is health information first, healthcare providers second.
Patients look for information online about symptoms, health conditions and treatment options 10 times more often than they look for a doctor or clinic.
Medical SEO brings patients to your practice
How do we know that patients search online for health information more than they look for a medical practice? At Vanguard Communications, we use research tools like Google Keyword Planner to see how frequently patients search online for certain terms and topics.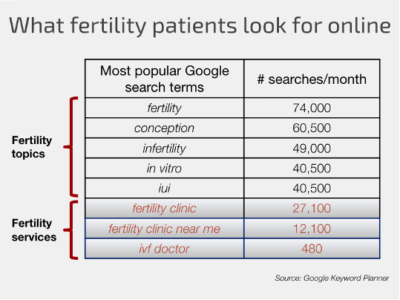 For example, let's look at the term "fertility." People are searching for that term 74,000 times a month on average in the United States. The term "conception," 60,500 times. "Infertility," 49,000 times on average per month.
Now let's compare that to how much people search for terms about infertility healthcare providers. For example, "fertility clinic" is searched 27,100 times per month. "IVF doctor," a mere 480 times per month.
The next chart below shows another example for specific infertility-related conditions for which we see a very high number of searches. The term "PCOS" (polycystic ovary syndrome) is searched 450,000 times on average on Google per month. "Miscarriage," 165,000 times. "Fallopian tube," 40,500 times.
So yes, we do see that patients search for health information first and healthcare providers second. And, in fact, using this kind of search data, we see the takeaway is that patients look for health information more than 10 times as often as they search for a doctor or clinic.
Even if it's about your practice, it should really be about the patient.
And we find that what patients actually read on a medical practice's website, for example, matches those search trends, with top-read pages being patient friendly blogs, patient stories and pages about health conditions or treatments. What this means for you as a healthcare provider is that search services like Google are one of the best ways to attract new patients.
Getting found on Google is the goal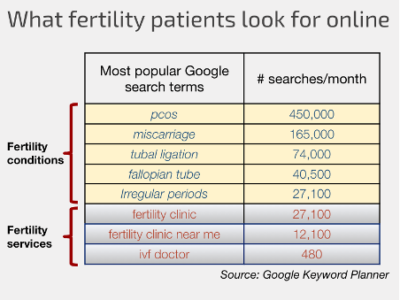 What we've seen with practices that we work with is that Google can bring in as many as 3 out of 4 new patients. That's really through the quality of information, not just quantity.
Now when I say quality of information on your website, I'm talking about medical SEO. You'll often hear about SEO from website managers and marketers. And it's often mythicized. But it's not some sort of website or tech magic.
It's really about that quality information that we've been talking about, or content marketing. Meaning, you provide information on your website using the same highly searched terms that patients are already looking for online.
Here's an example [image in the video] of a health webpage discussing the details of infertility in women. This kind of content is a great way to show up in Google and attract new patients looking for this type of information.
You can see in this example, too, that the website also has pages on topics like endometriosis, diminished ovarian reserve and PCOS. You'll want similar health pages on treatment options, too, such as IVF (in vitro fertilization) for a fertility practice, but even pages on recommended treatment approaches, for example single embryo transfer.
Medical SEO uses the language of patients, not medicine
In these webpages, you'll also want to use patient-friendly language. Here are some examples of terms that could be simplified for your patients [image in video].
In general, you want to focus your online internet communication on patient friendly language, and this extends to messaging and other information you have on your website. Even if it's about your practice, it should really be about the patient.
Let's look at some fertility practice tagline examples:
"Your baby, your way." This message emphasizes the patient benefit of treatment at this practice.
"Our family devoted to yours" speaks to and evokes that emotional side of infertility and the patient's goal of having a family.
"Success made simple," talking about IVF success here, but in a very appealing way to patients who might be daunted by the fertility process.
So again you want to lead with the patient first, not the practice first.
Here are some examples of common doctor-first messaging on fertility websites:
"Why us? Top doctors." This practice, for example, leads with its "top doctors" designation. This is important to patients but shifts the focus away from the patient (and what they want) to the practice.
"Over 25 years in business." In this next example, the practice emphasizes expertise or the time in business. Again, great details, but patients often start with the assumption their doctors will have expertise.
The term "Find us online" isn't just about your website. You need to be present where the patients are present.
Show your compassionate side online
What other benefits can the patient expect from your practice? Medical SEO can address that, too, because another great way to speak to a patient's needs is to make a personal connection. It's important to position a physician on the website and in social media as not just the expert, but as a real human being who cares about patients.
It's a great way to meet patients on their level. For example, on his bio page, a doctor can talk about his personal approach to treatment and give patients a way to learn more about him through online reviews.
Another doctor includes a testimonial from one of her patients to demonstrate her patient care. Some doctors use video and social media to share their personal stories for why they became doctors and what drew them to helping patients.
One doctor we work with showed his personal side by filming a very casual video on his cellphone about dealing with the coronavirus pandemic while getting exercise outside. This video isn't even about his specialty, but his patients really appreciate seeing his personal side here.
Join social media conversations already happening
Finally, another critical step for reaching patients on the internet is joining in the online conversations that patients are already having. The term "Find us online" isn't just about your website. You need to be present where the patients are present.
Social media is a major way to connect with patients on the internet. That's defined as an interactive online platform or online community where patients can share information, photos, videos, and ideas or interact with similar information from other people, groups and businesses.
Some examples of social media platforms include Facebook, Pinterest, Twitter, Instagram, YouTube and Skyrock.
Review-your-doctor websites are another great way to reach and engage patients, too. This includes online sites where patients can rate and provide comments about their doctors (such as Healthgrades, RateMDs.com). It's important that medical practices and providers monitor these reviews and respond both to the positive and the negative feedback.
So to recap how to stand out online:
You want to have a presence on multiple channels, such as a website, social media and online reviews.
You want to have patient-focused language and content, especially that health information patients are searching for.
You want to get personal and make sure you join the conversation.
Informative medical content is Vanguard's specialty
Vanguard's team of professional medical writers is our clients' #1 asset. How can we help you stand out online?