Patient complaints in bad reviews fault everything but medical care
Complaints about doctors used to go to state medical boards. They stayed private and were handled discretely. Today, patients can splash their bad reviews across numerous public channels, most notably social media and doctor review websites. And that's bad for business.
There's good news in the bad news about negative reviews: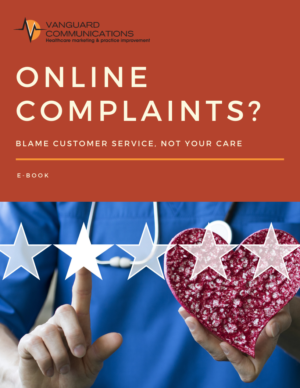 96% of patient complaints about doctors stem from the patient experience in the office, not the care delivered. While that's good news for the doctor's and staff's medical services rendered, it's a daunting amount of bad news for a practice.
Complaints include circuitous phone trees, calls and emails going unanswered and billing errors. According to our research, poor communication, long wait times and churlish staff are the top reasons for receiving few stars.
Doctors, learn about online reputation management (ORM)
Based on our analysis of nearly 35,000 online reviews of physicians, Vanguard has determined five steps to improve a doctor's online reputation. Our e-book explains what triggers negative reviews and what doctors can do to turn those around.
Download our free online reputation e-book
One-to-three stars turn new patients away
"Low star ratings or negative online reviews can be the deciding factor when a patient is searching for a provider," says Vanguard researcher and Technical Director Jonathan Stanley.
The good news is that a physician's online reputation can be repaired fixed and managed. It's a matter of creating a patient experience worthy of gushing to friends and family.
"Doctors are no different from banks or retailers. Their lifeblood depends on how they make their customers feel," says Ron H. King, Vanguard founder & CEO.
"Ignore online reviews at your own peril," warns our Medical Advisor Neil H. Baum, MD. "Reputation is like money in the bank. You want to accumulate good reviews for that rainy day when you'll need them the most."
Vanguard's ORM experts are on the case
Contact us to learn about Vanguard's "Interceptor Method" for managing medical practices' online reputations.