Lackluster lawyer reviews on sites like Yelp, Google reviews, and Avvo will cost you clients
Few clients select a law firm without some referral, and about 80% of them check online lawyer reviews to help them make a decision. Online reviews are driving a lot of business these days, and search engines often include a review rundown automatically. They know how important reviews are to people and serve them up without being asked.
Investing in law firm marketing without a robust online reputation management (ORM) program can mean all that work – and money – is for naught: Seeing a poor or mediocre rating prompts potential clients to instantly think, Not them.
Jump to: Our methods Proactive management
Your reputation management experts
Vanguard has 20+ years' experience managing online reviews for businesses and professionals. From constant monitoring to our interceptor method of keeping bad feelings from becoming bad reviews, we've got the management in ORM down pat.
About LawMarketLink Call now:720-912-8398
Don't just monitor attorney reviews, manage them
Studies show 88% of consumers trust equally online reviews and personal recommendations. No wonder just about every service provider and every business court online reviews. Whether or not an attorney asks for them – and that's not a bad idea at all, a firm shouldn't view online reviews in a passive light.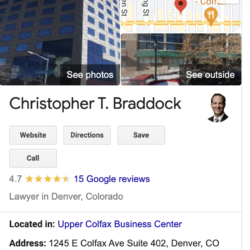 Search engines sure don't. Search for a legal term and the search engine results page (SERP) will list firms that handle that topic, including review star ratings from consumer rating sites like Yelp and Google reviews.
Search for a particular firm or attorney, and that firm's Google My Business page pops up on the right, with Google reviews prominently listed – before the address and phone number. A 4- or 5-star rating engenders a click; a firm with a 2-star rating will most likely be immediately dismissed as an option.
Reviews are in the face of internet searchers, and law firms must react accordingly. Vanguard's solution is superior to most ORM services available for hire. We don't use software other services use to just monitor lawyer review sites like Avvo, Lawers.com, Yelp, Martindale-Hubbard, and others.
Our lawyer review methodology
While slick website dashboards of other ORM services do look impressive, they fall short on management. At Vanguard, we utilize trained ORM experts to monitor lawyer reviews, responses, and more. Our methodology is straight-forward and effective.
First, we claim and consolidate the firm's and attorneys' review site listings, which enables Vanguard to manage the law firm's identity and respond to reviews.
Vanguard ORM experts read every review to gain insights on firm pinch points and client expectations.
When bad reviews do appear (and one bad review can overshadow good reviews), we respond with a personal message if the platform allows, approved by the client, addressing concerns for future review readers and offering to take the conversation offline, as needed.
We work with law firms to intercept bad reviews on their websites before they flare up on Yelp or Avvo (see section on our proactive ORM program below).
We track trends and advise law firms on ways to avoid bad reviews and promote good ones.
We promote ways for clients to express negative and positive experiences on the firm's website.
We provide detailed reporting on our lawyer review management efforts.
The net effect is to move the star ratings up and to increase the number of reviews, a metric consumers look favorably on.
And while attorneys can sometimes feel the online reviewing public unfairly attacks their profession, our original research shows that lawyers actually come off better than others, like doctors. However, that doesn't mean that a firm should leave its online reputation on autopilot.
Don't wait until a bad review damages your reputation. By partnering with Vanguard, you can take control of your online presence and make sure that your reputation accurately reflects your expertise and professionalism.
Don't leave your reputation to chance: Vanguard's core distinctions
1. A growth guarantee of 15%-30% in year one – just like we've successfully provided in healthcare marketing.
2. A 20-plus-year track record in meeting our guarantee.
3. A CEO who's a law school graduate.
4. We go beyond just "SEO," which can mean different things to different people, but produce strategic marketing content created by professional writers, who are hard to come across.
5. A turnkey, fully integrated program that includes social media, online reputation management, public/media relations, and more.
Our proprietary, proactive ORM for lawyer reviews
Every business gets bad online reviews, even the most respected law firms. How the firm manages those complaints is a central element of Vanguard's online review management. The objective is to head off complaints before they go online, respond to them when they do, and encourage more positive client reviews.
ORM satisfaction surveys
We've created special online surveys to screen clients as potential online complainers or potential positive reviewers and offer in-office handouts to gather the same information. We help a practice in managing the complainers before they go to Yelp or Avvo.
Happy legal clients are not as inclined to say so in online reviews as are clients with a negative experience. We address that with our special survey technology that helps us encourage happy clients to say they are happy. Through this and our counsel to firms on proven client service and communications methodologies, we earn more positive online reviews.
The power in responding to negative attorney reviews
Ignoring bad news never works, and that is so true in the world of legal ORM. Be quick, be constructive, and be respectful – no matter how flaming and irrational a reviewer's complaint appears. In dealing with a negative review, a response isn't just for that one reviewer, it's for everyone who will ever read that review and the response. Consider it the chance to cross-examine … nicely.
When wording the review, take care to acknowledge the reviewer's complaint without admitting validity. Our responses to negative reviews – we always confer with the firm manager before posting – respectfully acknowledge, state the firm's underlying principles in the review's realm of client service, and invite the reviewer to further discuss the matter directly by phone. Readers appreciate the firm's respectful nature, good intentions, and earnest attempt to make things right.
Some responses are sent privately and directly to the reviewer, but the same principles apply. It is also possible to have a negative review removed, either by the reviewer or the review site. We have success with both (and we know the signs of a bogus review as well).
Retain Vanguard's online reputation skills
Successful online reputation management of lawyer reviews takes skill, tact, and constant monitoring. There's no substitute for personalized attention and human expertise.
We are proven experts at doing that. And we are ready to do it for your law firm. Get in touch below to talk strategy.