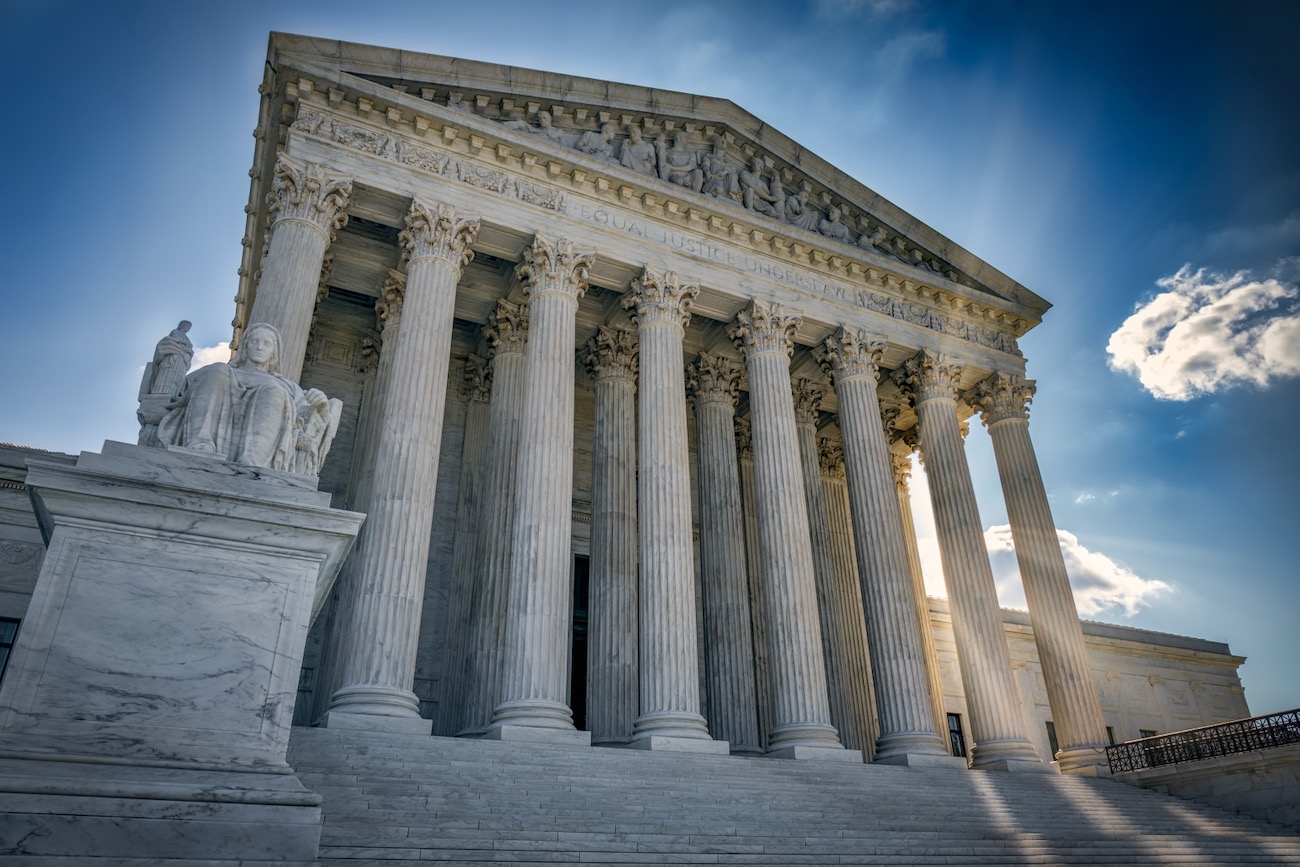 Supreme Court to weigh applicability of Americans with Disabilities Act to websites
For the last five years the Americans with Disabilities Act (ADA) has driven a legal gold rush among a tiny group of ethically questionable law firms. 
The United States Supreme Court may soon all but shut it down. Or it could alternatively transform a gold rush in on an unchecked bonanza.
When Congress passed the ADA in 1990 – in the embryonic days of the internet age – the legislation applied largely to architectural barriers. 
Specifically, the law required places of "public accommodations" to be physically accessible to customers and visitors regardless of physical ability. To this day, the accommodations include retail businesses, hotels, restaurants, and museums, to name a few. 
That's why we see handicap parking spaces almost everywhere, along with wheelchair ramps around staircases. Twenty years ago, no one seemed concerned about website accessibility.
Letter to Congress births an ADA website compliance cottage industry
Everything changed in 2018, when the U.S. Assistant Attorney General sent a letter to Congress saying that the ADA covers websites as well. Specifically, websites must be fully accessible for both the hearing and sight impaired.
The next year, ADA lawsuits against website publishers tripled, according to UsableNet, an online-accessibility consulting firm that tracks such suits. 
The 2018 number is now expected to nearly double this year. Sadly, this number does NOT include threats of lawsuits  in demand letters to targeted defendants.
Critics say the bulk of legal actions are essentially shakedowns. According to UsableNet, a mere 10 law firms account for more than 4 out of 5 lawsuits filed.
The suits are typically filed in bulk against businesses in certain industries, attorneys say. The plaintiffs' lawyers use boilerplate letters and draft lawsuits, filling in a few blanks pertinent to each website. 
The methodology is so automated that the lawyers can generate several dozen lawsuits or demand letters in a day's work.
Easy settlement cash
Plaintiffs and their attorneys generally don't plan on taking their cases to court. Rather, the goal is to wrangle a settlement out of the defendants. Typically, the payoff runs from $5,000 to $20,000 per case.
Meanwhile, inconsistent opinions in federal courts have not eased the pressure on private businesses to pay cash settlements with plaintiffs. One law firm reports that ADA website lawsuits have tripled in just four years, with most filed in New York, Florida, and California. 
Not only can private attorneys file civil lawsuits, but the U.S. Department of Justice and state attorneys general can also bring causes of action for alleged infractions of both the ADA and similar state laws respectively.
What is ADA website compliance?
One obstacle for website publishers and developers is a lack of reliable consensus as to standards for accessibility for the disabled.  
To date, the general reference has been the Web Content Accessibility Guidelines (WCAG), provided by the Web Accessibility Initiative of the World Wide Web Consortium, the international standards organization for the internet.
In July 2023, the U.S. Department of Justice proposed that WCAG 2.1, Level AA become the technical standard. As of this writing, the period for public comment is closing, and the DoJ is expected to issue a final ruling soon.
Generally, among web developers and accessibility specialists, an accessible website offers these features:
An ability for a visitor to turn off flashing content, a trigger for an epileptic seizure for some users

Captions for audio content for the hearing impaired

Compatibility for screen readers, devices that allow the sight impaired to translate text on a web page into spoken words

Flexibility for altering colors on web pages for color-blind users

Ability to change font sizes and color contrasts for the sight impaired

Option for navigating a website with only a keyboard rather than a mouse
Inconsistent court opinions
To date, federal court rulings have been all over the place on both whether the ADA applies to all websites or only certain kinds of websites and who has standing. Key legal issues:
1. Are all businesses with websites covered under the ADA as so-called "public accommodations"?
In four federal circuits (Third, Sixth, Ninth, and Eleventh) the answer has been no in various cases. In one high-profile instance, Gil v. Winn-Dixie Stores, 257 F. Supp. 3d 1340 (S.D. Fla. 2017), the U.S. Court of Appeals for the Eleventh Circuit reversed a lower court ruling by held that a website is not a "place of public accommodation" under Title II of the act.
In an analysis of 42 U.S.C. § 12181(7), the Court found a broad list of physical locations identified as public accommodations but nothing on websites. Thus, the Court held that a public accommodation can only be a physical place. 
Further, because Winn-Dixie is a bricks-and-mortar grocery chain and did not offer an e-commerce option on its website, the opinion states that its website does not amount to an "intangible barrier" limiting the plaintiff's access to the grocer's goods and services, absent a clear directive from Congress to the contrary.
However, the following year, the same court took a different direction in Hayes v. Dunkin' Donuts LLC et al, (11th Cir. July 31, 2018). The ruling turned on the donut chain's website offerings of some of the same services as available in Dunkin' Donuts' physical locations (e.g., store location information and gift card sales). 
Hence, the website's lack of access "can be said to exclude, deny, or otherwise treat blind people differently than other individuals…." Therefore, the ADA covered the chain's website.
Additionally, federal courts in the Third, Sixth, and Ninth circuits have said, yes, any website can be a place of public accommodation regardless of whether there is a "nexus" between the website and a physical location. 
2. What does a plaintiff need to show to establish legal standing?
In the landmark case Lujan v. Defenders of Wildlife, 504 U.S. 555 (1992), the U.S. Supreme Court created a test for legal standing in an evaluation of whether a plaintiff has suffered "an injury in fact" which is concrete, particularized, and actual or imminent. 
In addition, there must be a causal connection between a defendant's conduct and the plaintiff's injury, and it must be likely that a court's decision will redress the injury.
At issue is whether standing requires an ADA website plaintiff to actually intend to become a customer of a business. The question has been at the heart of Acheson Hotels, LLC v. Laufer, originally brought in 2020 by a disability rights activist in Maine federal court.
Lawyers for Acheson Hotels, operator of Coast Village Inn and Cottages in Maine, say in court papers that the wheelchair-bound plaintiff, Deborah Acheson, has filed more than 600 lawsuits against small hotels and inns. 
Acheson says that the costs of litigating such cases can bankrupt defendants. Moreover, Acheson claims Laufer has failed to show any injury, thereby failing to establish standing. The heart of Acheson's case is that without intent to become a consumer, Laufer and others a "tester" rather than as a truly prospective customer of a business.
In rebuttal, Laufer asserts that the ADA protects anyone who is disabled as subject to discrimination. Without testers such as herself, disabled persons suffer a "stigmatic harm" as unwelcome by certain businesses.
End of an era – or beginning of a new one for ADA website compliance?
Bottom line, if the Court holds for the Maine hospitality appellant, it's quite possible the era of serial ADA website lawsuits will slow to a crawl. In this scenario, for a plaintiff to successfully prove standing, he or she must demonstrate with concrete evidence an intent to purchase. 
Imagine, for example, the difficulty of a plaintiff claiming discrimination due to the inability to schedule an appointment on a medical practice's website with a primary care physician or on a private-injury law firm's website in another time zone. Given the ubiquity of PCPs and PI firms, the logistical challenge might well become too much of a hurdle to serial claimants.
But if the court decides the other way toward requiring all websites to comply with the ADA, the recent wave of serial lawsuits by testers against website publishers could easily turn into a tsunami. 
Of course, there's always a chance the court will take a middle position and rule that the law applies to some but not all websites. We'll provide updates on this site as developments warrant.
Disclaimer
The information on this website does not constitute legal advice and is not guaranteed to be correct, complete, or up to date. The information is provided as is without warranty of any kind, either express or implied, including but not limited to, the implied warranties of merchantability, fitness for a particular purpose, or non-infringement. Vanguard Communications authorizes website visitors to view, store, print, reproduce, copy, and distribute any pages for non-commercial purposes. In consideration of this authorization, you agree that a) any copy of these documents shall retain copyright and other proprietary notices herein, and b) this disclaimer is included with any distribution.
Vanguard's perfectly compliant law firm marketing
Highly experienced in professional marketing ethics and effectiveness, we offer a full suite of legal marketing services including making websites ADA compliant.